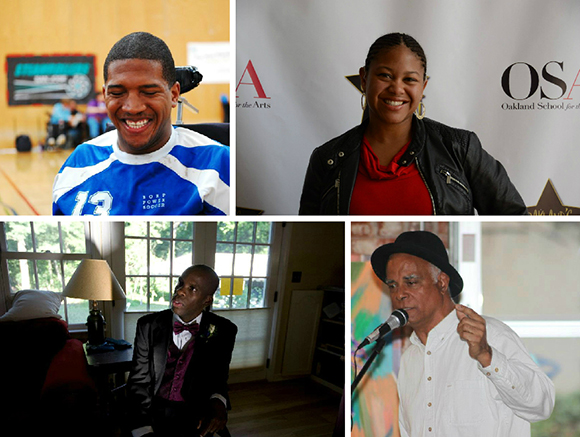 The final opportunity to view and interact with DIS/PLAY on Thursday, April 23, 6pm to 9pm, features short film screenings in the gallery, including recent work by artist Todd Herman, co-founder of performance project "Sins Invalid", as well as poetry, and pizza from Mozzeria, a Mission District restaurant whose owners and many of its staff are deaf. Among the featured poets are Leroy Smooth, Joy Elan, Lateef McLeod, and exhibiting painter Charles Curtis Blackwell, subject of the PBS film "A different color blue." The lineup will also include Cristine Martinez, from ArtReach Studios and Gallery of The Arc San Francisco.
Event Schedule & Participants:
Arrive as early as 6pm to mingle, view the exhibition and grab a slice or a drink. Mozzeria will be vending pizza and appetizers throughout the event. A cash bar will be available.
Sins Invalid, an unashamed claim to beauty, screening at 6:45pm, is a 35-minute film that witnesses a performance project which examines the beauty of the non-normative body, challenges taboos of sexuality and disability, and provides a supportive and politically engaged space for artists with disabilities, artists of color, queer and gender-variant artists to develop and present compelling works to a broad audience. A brief discussion follows.
At 7:45pm enjoy 45 minutes of performance poetry. Gallery closes at 9pm.
Special thanks to Anchor Brewing Co.whose generous donation helps SOMArts in fostering creative risk-taking, promoting cultural connectivity and learning, and instigating accessible, multifaceted participation in the arts.
Pictured: from Top L-R: Lateef McLeod, Joy Elan, Charles Curtis Blackwell, and Leroy Smooth. Courtesy Leteef McLeod, Joy Elan, Gerry GOS Simpson, and Leroy Smooth.
Pictured: Jasmin Zepeda, Untitled, mixed media on canvas, 24′ x 18″, 2014. Courtesy of NIAD, Richmond.